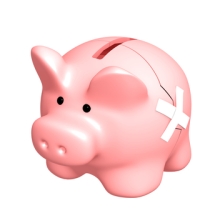 Once you catch the bug, the urge to play poker at every given opportunity can be hard to resist, both for those new to the game, and more experienced players who have picked up a bit of knowledge and skill. The introduction of online poker has made the game more accessible than ever before; you can now play online poker with a host of online sites. As with all games, your brain rewards you with happy chemicals when you play poker and win. Add to this fact that you stand to experience the additional buzz of risking and making money when you play poker, and it is not hard to see why some come to view the game as addictive. Of course, the majority of people who play poker have few serious problems with the game. However, the simple fact is that your fun must be tempered with financial responsibility when you play poker, to prevent an exciting pastime draining your financial resources.
Of course, everyone has different circumstances, and so the amount of money that it is reasonable to spend when you play poker is a personal decision. The golden rule, when it comes to poker and indeed any form of gambling, is to never stake more than you can afford to lose. If you are new to the game, try something like sticking to your weekend entertainment budget. Whatever the sum of money that you choose, the crucial fact is that the amount you decide to gamble should be specifically defined sum. When your losses reach this point, it is time to quit the game – this should be an absolutely concrete rule.
It is only possible to stick to this rule if you keep an attentive eye on exactly what you have spent during a session. Keeping an accurate tally, including notes on what you won and lost on each hand, can not only help you maintain budget, it can provide analysis that can help you improve your game.
This book keeping and note taking is illustrative of a wider approach to the game that is essential, and recognised by every experienced poker player. Betting decisions in a money game of poker should always be made on a rational basis. Sure, you'll be guessing a lot of the time, but these should be educated guesses and objective, evidence based decisions. Never trust superstition, and avoid playing drunk as you can quickly become aggressively irrational.
Emotionally directed poker play is known as being 'on tilt'. Every good game can inspire emotions provoked by different outcomes, both positive and negative, and this is no different when you play poker. Fluke and luck favouring other players can easily start to get the blood boiling, even if you are completely sober, and quickly lead to a situation where you breach your gambling limit in a bid for 'revenge'. Avoid playing on tilt at all costs, or chief among these costs will be painful financial loss.