This casino has CLOSED DOWN. Check our latest reviewed casinos for great alternatives and new hot bonus offers!
Littlewoods is one the most trusted name today. At Littlewoods Poker all your favourite
poker games
are played over a wide range of tables and stake levels. In the high stakes player perspective, Littlewoods big games attract many of the top online players in the UK. But there are games and daily tournaments with big cash prizes for every wallet.
The software has stunning graphics and superb usability guaranteeing fast, smooth, non-fussy gameplay. Moreover, since a recent update last year, you can now play up to 12 tables at once, thanks to the "mini mode" view availability. After the ban on US players, the players number has started to increase again lately thanks to the good games along with the great software. The most popular game on site is no limit Texas Hold'em, followed by the fixed limit version. There are always games available for both disciplines. But nowadays also pot limit Omaha is increasing in popularity. You can play in multiple currencies: Euros, GBP or US$. At Littlewoods poker you can also quickly and easily learn to play poker online in their
poker school
. Teaching you how to play and win at poker they are sure that you will be a happy and returning player. So they do their best to create winning players.
Well … it is all really amazing, but, of course the main question is: what are they offering in bonus and promotions?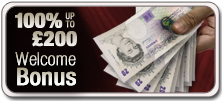 Littlewoods Poker offers a
100% signup bonus up to £200
. The bonus is released in incremental amounts at the rate of £1 Bonus per 15 MyPokerPoints (MPP's). When you generate 375 MPP's you will have £25 credited to your account. And so on. You get one calendar month to clear the bonus. They also offer a
$3,500 first depositors' freeroll
, a
$50k First Depositors' Challenge
, plus a series of other interesting and ever changing and appealing promotions and rewards tournaments. But, above all, it's better that you don't miss Littlewoods Poker special tournaments.
They give away over 3.8m Pounds in guaranteed prize money each month.
Most of the tournaments are NL hold'em with small buy-ins, but the biggest tournament of the week attracting some good players is the £40K. They also offer qualifying package tournaments to participate to the main live events of the poker network. In addition Littlewoods Poker run Double Shootout events along with the Head Hunter tournaments – multi-table tournaments where players earn cash for every player they knock out – which guarantee loose aggressive play and fun for everyone.